Posted by Organic Heirloom Gardens on Feb 12th 2019
Elephant garlic, also known as Giant Garlic, Great-headed Garlic, French Garlic, and Oriental Garlic is actually not garlic at all. It is more closely related to a leek. Elephant garlic as the name would suggest is much larger than its softneck and hardneck garlic cousins. Bulbs usually weight about ½ pound each. There is usually 3-4 cloves per bulb. One clove is the size of a normal garlic bulb. You will find the flavor is more mild producing a taste between an onion and regular garlic. Elephant garlic is a culinary delight and used by chefs around the world. It can be prepared roasted, grilled with herbs, and many other ways. It is used in a multitude of recipes and can substitute onions, shallots, or garlic in a recipe depending on your taste.
Common Name: Elephant Garlic
Botanical Name: Allium ampeloprasum var. Ampeloprasum
Hardiness Zones: 2-10 (3-9 Most Ideal)
Seed Spacing: 8-12 Inches
Seed Depth: 4-6 Inches
Row Spacing: 30-36 Inches
Soil: Well Drained, Fertile (Amend with compost as needed)
When To Plant: Fall or Early Spring (Fall is best for cold climates, 4-6 weeks before ground freezes)
Days To Maturity: 90-100 (Spring Planted), 220-240 (Fall Planted)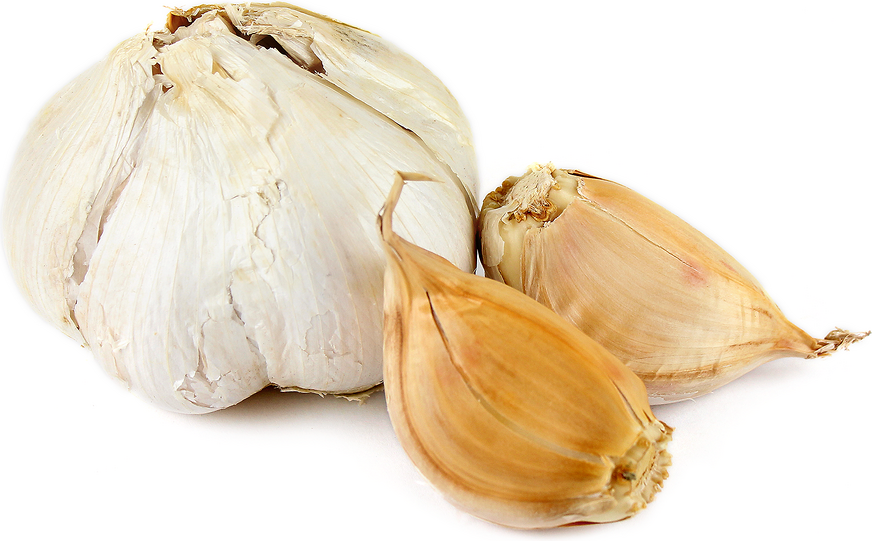 ---
PLANTING STEP BY STEP
Elephant garlic likes loose soil, till soil 8-12 inches deep.
Amend soil with a rich compost, spread it throughout planting area. Till compost to mix with soil.
Add a thin extra layer of compost before planting, about 1 inch deep.
Spread and level out the planting area.
Plant cloves 4-6 inches deep, 8-12 inches apart, and rows 30-36 inches apart.
After planting, cover cloves with dirt.
Add an additional inch of compost over the rows, spread evenly.
---
CARE
Mulch with additional compost in early spring.
Fertilize throughout spring to get big bulbs.
Water regularly, but do not waterlog. Garlic will need less watering if mulch is used.
Make sure soil is well-drained. Mulch will help retain moisture and prevent weeds.
All weeds must be pulled. Garlic does NOT compete well with weeds. This is especially true in the early spring.
When garlic plant develops a flower stalk or scape, remove it. This will allow the plant to concentrate on bulbing.
---
HARVEST/STORAGE
Elephant garlic is ready to harvest when the leaves turn yellow and brown. Stop watering when this happens.
When harvesting use fork to loosen soil. Pull up by stalk.
Once harvested let bulbs dry in cool dark spot for a few days, then get as much dirt off as possible without washing.
Always handle garlic bulbs very carefully, bruising will encourage rot.
Allow garlic to cure for 3-8 weeks before being stored. Spread the bulbs out on an open screen off the ground. Dry in a cool, dark place. During this curing process there also needs to be plenty of air movement, use a fan is necessary.
Store at 40 to 55 degrees F. No more than 50% humidity to prevent mold. Mature, dry-skinned bulbs like it cool and dry.
Elephant garlic can be stored for about 12 months. As the garlic ages the flavor becomes richer than it is when picked.